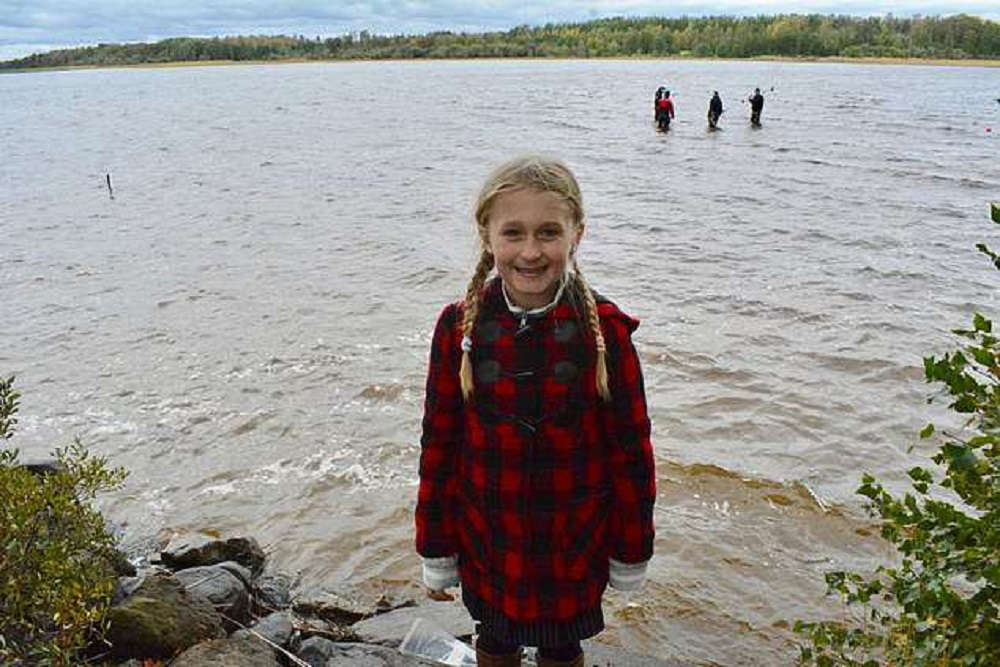 Note the use of Metal Detectors in the background behind Saga, there being used to search for other relics….
Queen Saga that's what the locals jokingly say the Swedish girl, eight, who pulled 1,000-year-old sword from lake should be made a Queen….The inquisitive eight-year-old only moved to the country last summer and her father is an avid Minnesota Vikings fan, whose daughter has now found a Viking swords, The eight-year-old girl has pulled an ancient sword from a lake, prompting locals to dub her the Queen of Sweden.
Saga Vanecek came across the rusted relic when swimming with her family at the Vidöstern lake in Tånnö, Sweden earlier this summer. The blade is approximately 85 centimetres in length and still has preserved wood and metal surrounding it… She told VN.se 'I felt something with my hand and thought it was a stick and then I lifted it up and it had a handle that looked like it was a sword and then I lifted it up and shouted at Dad: Daddy I found a sword!'


The finding of the historic blade has parallels with King Arthur who was given a divine right to rule after being given the legendary Excalibur by the Lady of the Lake.
The eight-year-old has now jokingly been referred to as the Queen of Sweden by locals, who are excited by the fascinating find.According to experts at the Jönköpings Läns Museum the weapon may be pre-viking in origin and is thought to be more than 1,000 years old and possibly date back to the 5th or 6th century.
After a further search of the lake a brooch was also found, with archaeologists excited about what else they may be able to uncover, ALSO Archaeologists are hoping to find other significant finds …
The eight-year-old's father, Andy Vanecek told Local: 'Why it has come to be there, we don't know,'
'When we searched a couple of weeks ago, we found another prehistoric object; a brooch from around the same period as the sword, so that means – we don't know yet – but perhaps it's a place of sacrifice.
'At first we thought it could be graves situated nearby the lake, but we don't think that any more, & when after only telling her best friend about the stunning find, before telling classmates, which prompted a small party. 

Saga Vanecek [above] posing with her the sword which she found in a lake while swimming with her family in Sweden. Experts believe the weapon is pre-Viking and could date back to the 5th or 6th century, unfortunately anyone hoping to get a closer look at the artefact is going to have to wait a year.
Mikael Nordström from the museum said: 'The conservation process takes quite a long time because it's a complicated environment with wood and leather, so they have several steps to make sure it's preserved for the future, the inquisitive eight-year-old only moved to Sweden last year from Minneapolis in the US so they could be closer to her mother's family, Saga;s father added: 'The cool thing is that I'm a huge Minnesota Vikings fan, and this looks just like a Viking sword!'
thank you to the daily mail….  https://www.dailymail.co.uk/home